About Sabine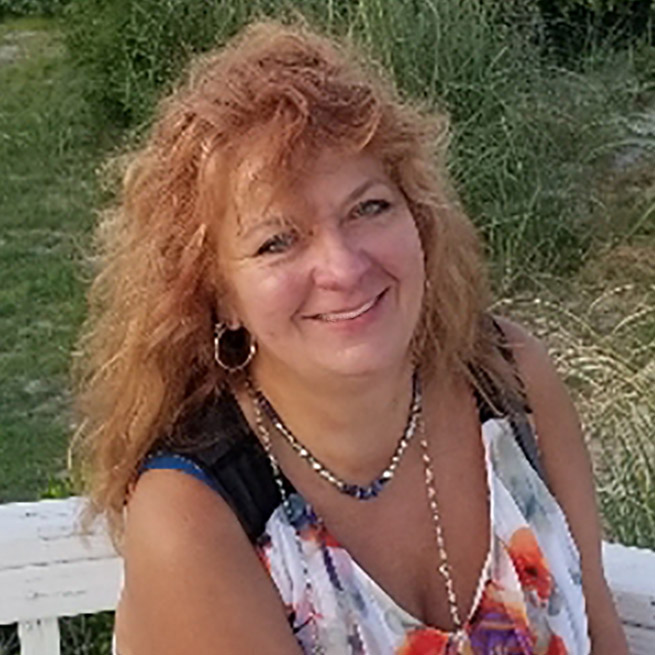 Sabine Baeckmann is a seasoned artist and designer with over 40 years experience in medical and scientific illustration, pharmaceutical advertising, design and marketing, as well as in teaching and training in the fine art and digital art fields. She earned her Bachelor of Science in Applied Arts degree from Pace University, NY in Medical/Scientific Illustration, with minors in Pre-med and Psychology, and did her Masters coursework in Art Therapy. Over the last 40+years, she has worked as an illustrator and creative director on numerous medical and pharmaceutical marketing projects. She has illustrated surgical guides for medical prosthetics manufacturers, worked as a designer and advertising manager for a medical products manufacturer, and was an art director on numerous pharmaceutical product launches over the course of her career.
Sabine left the NY/NJ advertising field and moved to Pagosa Springs, CO with her family in early 2002, where she studied under renowned illustrator and watercolor realist, Pierre Mion. Mion, famous for his years spent as illustrator for National Geographic, was protogé and collaborator to Norman Rockwell for 12 years (www.pierremion.com).
Over the years, Sabine has been a commissioned artist on various public art projects, such as the 2005 San Juan Mountains Association Pumas on Parade, the 2006 International Cow Parade in Denver, the 2018-2020 Coxsackie Hoot of the Owl Project, the Catskill Mountain Catn' Around Catskill Project from 2007 through 2020, for which she has created 40 commissioned cats over the years. In 2008, Sabine coordinated Pagosa Springs' first public art project, Birdhouses for Habitat for Humanities, and had a one-woman show at the Pagosa Springs Arts Council, on which she was a board member. She also served on the board of directors, and was an exhibiter, in the Pagosa Springs Art in the Garden Festival for several years. She has collaborated as illustrator on a published humorous coffee table book called "Animal Verses for Grown Up Children" and is the cover illustrator and designer of the Native American book on Shamanism "Coyote Goes Global." After briefly returning to NY, she served as President of the Evans Art Guild for two years.
Now living in North Carolina, Sabine has been freelancing as a designer and on-line marketing consultant, and is working on her own paintings and illustrations, and still participates in public art projects. She currently is a member of the Wilmington Art Association, the Seacoast Artist Guild and Gallery in SC, is Social Media Director to the Board of the Watercolor Society of North Carolina, and is a working studio associate at the ArtExposure Gallery in Hampstead. She routinely participates in local and national exhibits and gallery shows, such as Wilmington's Art in the Arboretum, the Wilmington Art Association Annual Juried Show, Airlie Gardens' "HeArt of the Gardens" project and the annual Art in the Arboretum exhibit. Sabine's artwork has been featured in th April, May and June 2019 Art Edit Editions of House & Garden Magazine, as well as the November 2020 Issue of Wrightsville Beach Magazine. She teaches art privately and conducts art workshops, including watercolor, oils, acrylics, illustration as well as, painting on glass.
Creative excellence is a priority in Sabine's professional work in watercolors, oils, acrylics and illustration, and has also been reflected throughout her extensive career as a graphic designer and trainer in the creative arts field.